¡¡¡¡Garlic flakes produced by Hebei Gucheng Food Co.,Ltd are made of fine garlic through skin removed, cutted to pieces, washed, dried, selected and packed. They look a light yellow and fresh in color, neatly cutted, of integrity and even thickness, pure to the taste. Because of the lower moisture content they are long time quality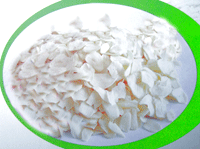 guaranteed. The specifications are:
as per thickness:1 mm¡«1.5mm,1.5mm¡«3mm;
As per quality: grade 1, grade 2 and grade 3.
Our garlic flakes have got a stable quality, reasonable price. They are tested by CCIB and in accordance with export standards. Package will be as demand. We warmly invite you for the cooperation on business and take orders from food companies, condiment companies and Export companies.